CanWest Donates Blankets To Homeless, Daily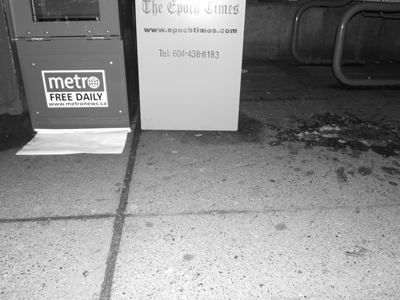 Ch-ch-ch Changes
By THE ONLY
Extra! Extra! Blood in the streets! Black blood, ink, gushing from the veins of newspapers gunned down in vicious turf war! Extra! Extra! Trees everywhere quaking in their roots at the thought of being recycled as paper!
Everybody's gunning for The Province. This week Metro invaded, little green men from the planet Sweden shaped like metal boxes were seen across Vancouver, as many as seven spotted on a single street glancing at each other and mumbling, "I was here conquering this corner first!" Dose, another alternative daily newspaper soon to be joining the fray, also hopes to CRUSH The Province, squeezing the tabloid's distribution numbers to messy fractions. The Vancouver Sun stands back aloof on a hill hiccoughing nervously, shouting down "Way to go, guys, give The Province a kick for me! Hey, you fellahs needs cab fare? You can have my lunch money if you promise to not bother me…"
It's all very complicated. Let's break it down. The Province, like the Sun, is owned by CanWest, based out of Winnipeg, the only city in Canada in which they don't own any newspapers. Considered this city's flagship papers, they are being challenged for advertising revenue by Dose… owned by CanWest. However, the real threat is Metro (METRO! ROWRRR! SCARY!) the hulking, sixteen-page dark horse, stuffed with endless terrifying Fido ads, whose ownership is split three ways between the original Swedish creator (with highly successful franchises in London, Toronto, and other towns with large public transport systems) Torstar, the Toronto media giant, and… CanWest
Oh. CanWest? Wait. That means millions of dollars and thousands of trees are being shredded in a war between newspapers owned by the same company? It's like watching a hydra with the nibbles giving in to a hankering for hydra-heads. So how real is the fight? Is CanWest really hoping to destroy one property with another? Granted there are other, more ruthless publishers out there. Hell, even printers can get pretty ruthless. Quebecor, the folks who publish AdBusters amongst others, happily crush their own workers with iron-rich boulders when they try to unionise. AdBusters are understood to stand by tut-tutting severely during these crushings before steeping sprightly into the fray to fit the wounded with comfy Black Spot sneakers accessorised with Ecuadorian-made odour eaters.
The battle is joined! Reporters sporting blue face paint and burlap kilts are lining up on gore-soaked fields to shout clipped slogans and wet their burlap. What's the solution? Get a make-over! Drastic times call for drastic desperation. First it was the Province, with their incredible style revolution, adding white space and, um, changing a couple headline fonts. Then Terminal City (Bless 'em. Sweet little blighters, racing barefoot through the cobbled streets after readers, weeping, "Do you like us better now? What if we were a snowboarders' magazine? How about if we covered more cheese related issues? Naked women on page three?! Hog-tying?!?!!") threw away more of their good stuff for the cause. Georgia Straight showed them all how to do it right, then explained exhaustively what all they did, such as adding white space and changing a few headline fonts. Next up was the paper formerly known as WestEnder, now to be referred to only as… WE. Mais oui. Suddenly the twenty-million-a-year Georgia Straight really does look alternative.
Type fonts equal content. White space is aesthetics. Revamps are revolution and reader loyalty is based on the latest style appropriation rather than depth, novelty or invention. Vancouver has more free newspapers/magazines than any town in the world. Only is one of them, we scare trees, too. However, at least– we hope! – we have something to say, rather than simply using a different type font to say what we did before.