Strike Paper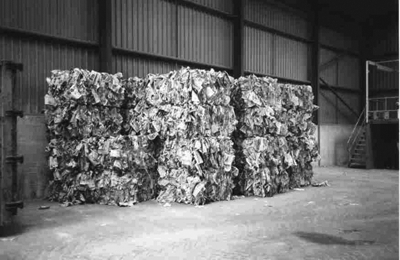 Tetra packs lying around all over the place
Everyday for the past seven months, three-quarters of a million pounds of paper products have not been recycled in the Lower Mainland because members of the Communications, Energy and Paperworkers Union of Canada (CEP) at the only paper recycling mill in Western Canada have been on strike. It is also one mill out of two in all of Canada that recycles tetra pak juice containers (the other one is in Scarborough, Ontario).
The strike began in April 2004, when the company who owns the mill, Norampac, refused to recognise the pulp and paper industry pattern settlement obtained by all the other pulp and paper locals in BC. It also wanted the union to concede to an increase in members' contributions for health and welfare benefits and the elimination of penalties for hiring non-union contractors. The Union clearly stated at the beginning of the bargaining process that they would not agree to a concession agreement, but the company refused to listen, thus forcing CEP Local 1129 to strike.
Since the beginning of the strike it appears that Norampac's goal has been to break the union. In an email, Bargaining Committee Chair Gene McGuckin stated that "… about six or seven weeks into the strike the company started to bring trucks to load some of the finished rolls of paper left from before the strike began…(members blocked these trucks for 12 or 13 days)… which resulted in several costly trips to BC Supreme Court". The company succeeded in getting an injunction issued against the union and when CEP 1129 members defied this injunction, two were arrested.
"We did all that to show the company we were serious, but it seems to have had little impact," said McGuckin. Frustrated, picketers started keeping a "line jumpers" list, which is a list of all the trucking companies that have crossed their picket line. According to McGuckin, this has resulted in "a half dozen or so trucking firms being turned away from other unionised sites."
When Norampac started trucking out raw materials (large bales of cardboard), union members started following the trucks. They soon discovered that a number of the trucks were going to various ports where, according to a source, their cargo was being shipped to China for processing. CEP Local 1129 then contacted the ILWU (the International Longshore and Warehouse Union) and asked for support, "which was immediately forthcoming" said McGuckin. " The Longshoremen turned a number of containers away from the port. This has meant that the company now has to ship these bales to China by first trucking them to Tacoma." Members of CEP Local 1129 have tried to rally support south of the border, but this effort has been less successful.
The Union Movement in BC and across Canada has been quick to support CEP Local 1129. The BC Federation of Labour has issued a "hot edict" urging people within the Union Movement to boycott all Norampac products. In addition, a number of other CEP locals and other unions have shown their support through financial contributions and public displays of solidarity.
Union breaking is a growing trend in a political environment hostile to labour. Large companies like Norampac, that can afford the cost of shipping raw materials overseas, make it very difficult for unions to bargain in the interests of their members. Norampac, whose operating income in their last financial quarter was $27.8 million, has the potential to absorb the costs of labour disputes in the hopes of breaking unions. However, as many Eastern CEP locals are now entering negotiations, McGuckin is hopeful that these locals can get together and offer each other support. The organising strength of the CEP will show Norampac that taking on the CEP will be more difficult than they thought.
So the next time you dutifully save the environment by recycling your paper, think about the workers who process it, for without them we would be knee deep in old newspapers, wrinkled wrapping paper and thirteen-year-old love letters.
For more information check out the CEP Local 1129's web site: and Norampac's site.