Blues Explosion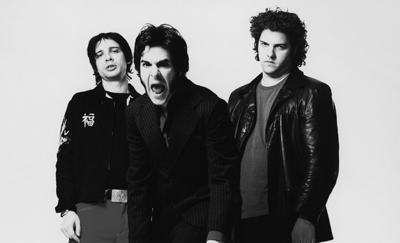 Less Hype, More Mojo
Always a blinding, shaking, soul-blast of sweaty good times, Blues Explosion is the right mixture of punk and let it all hang out early-70s hard rock. Even if they don't know how good the first Cactus album is.
ONLY: There's a lot of heavy rock these days…
Jon Spencer: Heavy rock? What's heavy rock, Nickleback?
ONLY: There is lots of that over-singer type of rock, but that's a sore spot with us Canadians…
JS: Yeah, I'm sorry [Laughs]. We've got our share of crappy bands.
ONLY: I just noticed that with all the recent back-to-rock there's a lot of hype. The other day I threw on a dollar vinyl copy of the first album by Cactus and thought, 'Man this is about as kick-ass as any of these new rocking bands like The Hives or The Strokes. They'd eat 'em up!'
JS: I must say I'm not familiar with Cactus.
ONLY: They were a spin-off of Vanilla Fudge.
JS: I've definitely heard Vanilla Fudge. Yeah, there's a lot of bands that sound like early 70s, certainly a lot of bands that look like that, too.
ONLY: I think that what you do has a lot more of the soul that music had, blues and soul elements. Less hype, more mojo.
JS: Well, thanks. I guess we're into a lot of different kinds of music and maybe that has something to do with the difference between us and these other groups. For me, I really believe that rock and roll is something strange, y'know? And it really is. And I think that's sort of lost on most people, and I think that's what sets the Blues Explosion apart from a lot of bands. But I do think that rock and roll is something that's from outer space and it's meant to be a bit strange and a bit bizarre. To me nothing's more tedious than 'Rock'. It's rock and roll.
ONLY: What kind of strange music attracted your ear?
JS: Oh, I got into bands like Kraftwerk and the Residents. Very kind of un-rock and roll bands. Now, with my experience and knowledge, I can point out the rock and roll within the music of those bands. It's definitely there. On the surface they were very different from the music that was around me when I grew up.
ONLY: Like Aerosmith and that?
JS: Yeah.
ONLY: I can hear a lot of similar mojo in Aerosmith when they were good with what you do.
JS: Yeah, yeah. You're never too far away from anything else. Things are all connected in some ways.
ONLY: You both like the greasy beats. It's neat what you're doing now, adding all kinds of today-twists to it but still keeping it raw and loose. Does the looseness come a little easier?
JS: We've never used a set list and we always keep things open. We always take chances live. That's the fun of it. We just finished a three-week tour and only in the last few days have we really started to nail certain songs. There were some things which we'd been kicking around which we're finally able to play, and it's always great when you discover a cool segue between two songs or three songs; something new just kind of popping up. I think the model for us is James Brown or Black Flag. You listen to James Brown live recordings from the 50s, 60s and early 70s; also, bands like the Famous Flames and the lineups with Bootsy Collins—a real rhythmic influence.
ONLY: A good old ten-minute song?
JS: Oh yeah. You should check out the live record Live Power Peace, or Love Power Peace, from 1968 recorded in Paris. There's some incredible sequences—there's some vamps that go on for a very, very long time. And that's just classic showmanship. Reading about those performances and listening to them, that's really a model for Blues Explosion in many ways. We're certainly not a jam band. We don't use a set list, but we're not noodling around. It's like a kind of punk rock soul show. We'll hang on to things if the moment calls for it. And it's not only about the band, it's everybody and what people are doing and what the feeling is.
ONLY: From the shows I've seen you get a lively crowd.
JS: That's one think I like about our music is it's a communal thing, it can be. Rock and roll, that's my church [Laughs].
Blues Explosion play with the Gossip at Richard's on Richards on Thursday, Nov 18.