Blackavar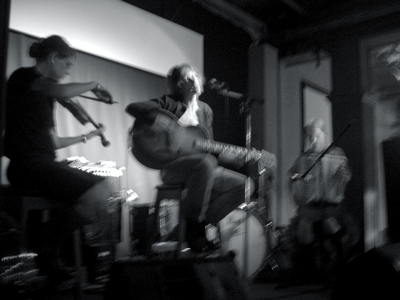 Laura Cartwright is the voice and songwriter of Blackavar. She started writing music only a year ago, and has just released an album. The self-titled album is astonishingly beautiful, sad and honest which comes as no surprise to anyone who knows her. We've been waiting a long time for this.
Only: You just recently started writing music, why now?
Laura: I'm not sure why. A window opened in my head. The songs came out in rapid succession.
Only: How did the recording of the album happen so quickly?
Laura: I played a couple of songs for my friend Nyla, who has always been supportive and often managed to make me do things, and she offered to accompany me on Cello. My neighbour and friend Stefan heard the songs and offered initially to record them. I didn't take anyone very seriously or take myself seriously. Then Mike Campitelli and Jonny Olsen recorded my demo and Danny Jones from the label Transsiberian Music heard it and wanted to put out the record.
Only: What was that like?
Laura: All the vocal tracks were recorded in one day and with one take. It was a really nice set up, an empty room looking out over McLean Park. I just played my songs.
Only: Who else is in Blackavar?
Laura: On the album I played with Nyla Raney, Nick Krovich, Stefan Udell, and Ida Nilson. Ida plays with the current Blackavar lineup, which also includes Nyla and Jessica Slovac. I knew I wanted to play with Ida before I even heard her music. I used to ride the bus with her and I just had this really strong instinct. They are all really strong women and know what they are doing musically. I'm a real spazz, so their guidance is essential.
Only: Given how personal your music is, do you enjoy playing for an audience?
Laura: I've never felt at ease while playing, it's pretty tortuous. One exception was a show I played at the Butchershop. I was on the floor with the audience and it was all people I knew and I felt like they were as much a part of the show as I was.
Only: What was on your mind when you wrote these songs?
Laura: The common ailments that afflict all human beings, loneliness, grief, sorrow, betrayal, poverty. This city is hurting and the widening gap between rich and poor occupies my mind a lot. I also write about really simple things like the way things look. I'm pretty visual.
Only: Does being visual affect your music?
Laura: I'll move a mess around in my room until it is aesthetically pleasing to me. People who have worked with me can attest to my hypersensitivity.
Only: And do they understand?
Laura: I'm lucky because I live in this insular world where everybody thinks creatively and produces art and music all the time. I never knew I could contribute to that. Having people I respect and care about be into my music was a wonderful surprise. I couldn't care less if we were popular beyond the community. But if we are I'll find a way to cope.
Blackavar's self-titled album is available through Scratch records on Transsiberian music. See their show.