Sad Mag Live! First Anniversary Fundraiser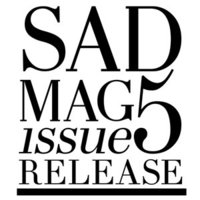 Our friends at Sad Mag are having a live fundraiser at the Cultch on Saturday. It's like a magazine live on stage. They say.
Hosted by

CBC

Radio 3's Lana Gay,

SAD

MAG

LIVE

features live, on-stage interviews with:

CAMERON REED (Director, Music Waste)
GRAEME BERGLUND (Founder and Creative Director, The Cheaper Show)
LIZZY KARP (Co-Founder, Rain City Chronicles)
DAVE DEVEAU (Managing Director, Zee Zee Theatre)

With performances by:

BARBARA ADLER
JASPER SLOAN YIP
SAMMY CHIEN (+ guests)
ISOLDE N. BARRON

This event is a fundraiser benefiting the Sad Mag Writers & Artists Fund. Tickets are $18 and can be purchased from Cultch online or at the box office. The cost of your ticket includes a copy of Sad Mag issue 5.